Technical Development by Cambridge English Online Ltd
This exciting On-screen resource enables children to design and create their own newspaper front page. They are invited to write up three stories from a set of reporters' notes and quotes, choosing which story to lead with for their particular paper. They will also be asked to think up headlines, choose a photo, add a caption and byline.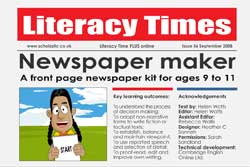 Before reading
Look at the instructions and identify the task.
Discuss the newspaper types, looking at their names and their potential readership before choosing your preferred type.
Explore the style, language choices and photographs which might be used, according to the different type of newspaper.
Decide how decisions will be made in each group – will there be an Editor or a voting system?
Discuss ground rules for agreeing on decisions. What happens if others do not agree?
Log in to your account to read
Reviews
You need to be signed in to place a review.