Getting to grips with grammar: Adverbs and pronouns
19 January 2009
Add to My Folder
Help your class to polish up on their adverbs and pronouns and help make their grammar work shine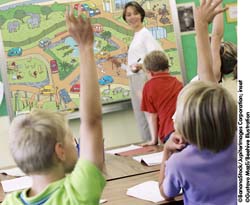 Adverbs and pronouns are the final touches in children's speaking or writing performance. Adverbs add meaning; pronouns remove clumsy repetition. Read and discuss the first and second of the 'Grammar safari park' activity sheets 'Grammar definition card: What is an adverb?' and 'Grammar definition card. What is a pronoun?'. And of course, make sure that your class can all see the Poster, 'Grammar safari park' as a stimulus. Next, make up some sentences without adverbs and pronouns and then tell your class to bring on the extras! (See more activities on the third and fourth of the 'Grammar safari park' activity sheets 'Teachers' notes' and 'Removing repetition'.) Encourage them to select adverb additions and pronoun replacements from the Interactive resource, 'Grammar safari park – adverbs and pronouns' and/or the word lists on the fifth and sixth of the 'Grammar safari park' activity sheets 'Safari park grammar: Adverbs' and 'Safari park grammar: Pronouns'. Do the adverbs help describe a more detailed scene in the park? Do the pronouns improve sound and flow?
Activities and resources focusing on nouns, verbs and adjectives, prepositions and connectives are also available.
Adverb activities
1. How do you do?
List action, or verbs, that could take place in the safari park, for example: stand, sit, talk, walk, smile, eat, drink, watch. Ask the children to perform (or mime) each action for a partner, who says, in one word, how they stood, sat, and so on. As a class, discuss the various answers. Display words and try out some in sentences. Ask: Can they identify word class within the sentences? What sort of meaning do they add to the verb? (How the action is performed.)
2. Hunt the adverb
Display the text below (minus the highlighting). Can the children identify 11 adverbs?
Here, the car moved along slowly, but Jaye felt uneasy. Jaye never panicked, but the roof was shaking occasionally! A noise was coming now from the top. Tom squealed piercingly! Later, Mum screamed hysterically! Soon, there was panic inside the vehicle.
"The herd of elephants is attacking!" Dad shouted foolishly. "Let's drive away!"
Subscriber-only content
Scholastic Resource Bank: Primary - subscribe today!
Over 6,000 primary activities, lesson ideas and resources
Perfect for anyone working with children from 5 to 11 years old
Unlimited access – only £15 per year!
Subscribe
Already a subscriber? Sign in below.