Use our resources to help boost children's knowledge of prepositions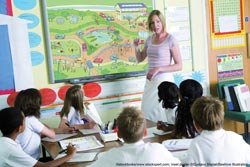 Last month, my new grammar series introduced nouns, verbs and adjectives in the context of the fantastic 'Grammar safari park' poster, interactive resource and activity sheets. This month moves on to prepositions.
Prepositions are sometimes treated as the poor relations of word classes. Often short, with little independent meaning, they are easily dismissed as unimportant. However, prepositions not only play supporting roles but also indicate significant relationships between words; for example: two crocodiles moving in the water is rather different from two crocodiles moving into the water. By teaching children how to use prepositions correctly, you are ultimately helping them to communicate.
Begin the activities by showing the children the 'Grammar definition card - prepositions' - the second of the Grammar safari park: prepositions activity sheets Invite discussion and example sentences. Display the poster and "interactive resource" as an engaging and visual stimulus.
Activities
1. Welcome
Explain to the children that they are going to record a welcome message for the safari park. Read out the text below. Next, ask the children to write the letter 'p' on a piece of card or paper. Say that the next time the message is read aloud, they must hold up their 'p-cards' every time they think they hear a preposition (prepositions highlighted in bold). If a card is held up, allow a pause to check and discuss the word's identity as a whole class.
Welcome to our safari park! This is a safari park with a difference. There is plenty of fun to be had. Watch tricks in the monkey den. Peer into the reptile house: a snake will slide along a branch. Drive near wandering deer. Smile hello as they walk by your car. Count the stripes on the zebras. Feeling lazy? Relax at a picnic table. Too hot? Shade under an umbrella. We have everything for you here!
2. Hunt the preposition
Challenge the children to hunt for the following prepositions on the 'Grammar safari park' poster or interactive resource as you say these sentences:
Giraffes enjoy leaning over the fence.
Could a tortoise hide in that log tunnel?
'Get off that car!' called the park keeper.
Count the leaves beneath the tree.
How many steps lead to the café?
Stay behind a picnicker to catch his crumbs.
Visitors arrive between 8am and 6pm.
During yesterday lunchtime, 100 people came to the café!
Inside that dish is special giraffe food.
How far is it across the pond?
Subscriber-only content
Scholastic Resource Bank: Primary - subscribe today!
Over 6,000 primary activities, lesson ideas and resources
Perfect for anyone working with children from 5 to 11 years old
Unlimited access – only £15 per year!
Subscribe
Already a subscriber? Sign in below.