It's not so much slays as sprays in this interactive game, as St George fights fire with water in our legendary duel…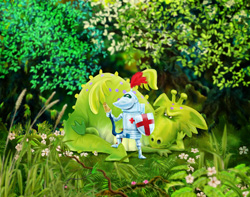 To celebrate St George's Day on 23 April, we've gone dragon crazy! But rather than use the traditional weapon of a sword, our budding hero must defeat the dragon using only a hose and a tank of water strapped to his back.
Children can control George, letting him dodge flames and jump over dangerous terrain. Every time the dragon appears on screen, they have to try and extinguish his flames by spraying water out of George's hose. But be warned: if George gets burned more than three times on his quest, it's game over!
Log in to your account to read
Reviews
You need to be signed in to place a review.