Taffy Thomas to be the nation's first Laureate for Storytelling
Add to My Folder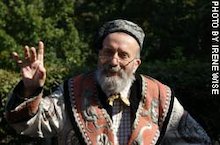 Taffy Thomas MBE – the first Laureate for Storytelling.
The Cumbrian-based storyteller, Taffy Thomas, MBE, has today accepted the honorary position of first laureate for storytelling which will run for two years from January 2010 to January 2012.
The country's first laureate for storytelling was revealed and backed by Liverpool poet – Brian Patten and former Children's Laureate – Michael Rosen on Saturday 26 September, 2009 – a few months after the celebrated storyteller marked his silver wedding anniversary and 60th birthday by the lakeside of Windermere.
The honorary position is officially awarded and celebrated at three official, public, launch events for the position, as the centrepiece of the tenth National Storytelling week in 2010. The first will be held at the British Library in London on Saturday 30 January, 2010. The second will be held at Birmingham Museum and Art Gallery on Tuesday 2 February and the third will be held at Seven Stories museum in Newcastle on Saturday 6 February, 2010.
Ready to enthuse
Already, the grand old man of stories, Taffy Thomas, MBE, – who is also a regular contributor to Scholastic's Literacy Time PLUS – is getting ready to enthuse and entertain about storytelling.
"It is with huge pleasure that I accept the invitation to become the first Storytelling Laureate," he said. "Over the two years, I will do all within my power to promote the art and to encourage the passing on of both repertoire and skills. I will endeavour to lay a firm foundation for future storytelling laureates and believe this is an exciting new development for storytelling, and I am delighted and honoured to be involved at the start of a new chapter in the life of our art."
Seven gifts
As Laureate for Storytelling, Taffy will also receive seven wonderful objects as a gift, including: 1kg bag of dried beans, a simple compass, a packet of love hearts, a clear glass bottle, a tall white candle, a silver, lucky charm bracelet and a whistle.
Taffy will no doubt be putting some of those objects to good use during his official two year term of office as he undertakes official engagements across the length and breadth of the UK.
Official patrons
The official patrons and 'Guardians of the story' include:
The Liverpool poet Brian Patten,
Michael Rosen (poet, broadcaster and former Children's Laureate),
Peter Chand (Storyteller),
Simon Thirsk (Chairman – Bloodaxe books)
Del Reid (the National director of storytelling week)
and Patsy Heap (Director of Children's services and libraries in Birmingham).
Top endorsements
The best selling, popular Liverpool poet and children's writer, Brian Patten said: "Taffy will make a great ambassador for storytelling."
The former Children's Laureate and BBC radio broadcaster, Michael Rosen added: "I'm so pleased for Taffy. Anything that helps support the oral tradition of storytelling gets my vote."
The honorary position is awarded by the guardians of the story and is an original idea and initiative of the poet and writer, Adrian Johnson. He said: "Stories inspire and encourage us at critical moments in our lives and with the brilliant success of the poet laureate and other regional projects the time seemed right to honour the oral tradition of storytelling and those that tell them."
The first Laureate for storytelling is awarded and organised by the Smethwick-based independent production company: 'kindandgenerous'.
Sample resources
Taffy Thomas, MBE, has been a regular contributor to Literacy Time PLUS. You can read his feature article on the history of storytelling, Pass it on! , on the Literacy Time PLUS website, along with a fascinating look at the role of riddles in storytelling, in Taffy's Teasers . And if you fancy giving your brain a workout, you can try your hand at solving a set of Taffy's finest riddles, in a FREEinteractive resource.
Published 1 October 2009
Reviews
This item has 5 stars
of a maximum 5
Rated 5/5 from 2 ratings
You need to be signed in to place a review.