Riddles have been part of the oral tradition for centuries. Here, Taffy Thomas explains their enduring appeal and launches a new series of brain-teasing online riddles for you to solve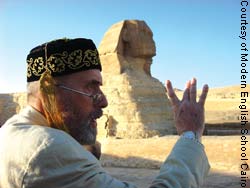 Riddles have long been a vibrant part of the surviving oral tradition of the British Isles. This is probably because of the sheer challenge of tackling a puzzle presented to you by a loved one. Ideally, three friends are necessary for a riddle to function. Firstly there is the riddler, who has the knowledge; secondly there is the wise listener, who can either solve the riddle or wishes to know the answer. However, for maximum comedy impact (and the oral tradition is a social art) a third person, who fails to solve the riddle, is required.
A touch of teasing
Riddles include a rich element of teasing (thankfully non-malicious): even as a boy growing up in the 1950s in a semi with no television, I recall my father teasing me that if I was to make my way in the world, I had to know how many beans make five. The answer of course is:

A bean and a half
And a half bean
A Bean and a quarter
and a quarter bean
A half a bean
And a whole bean

Log in to your account to read
Published 26 February 2009
Reviews
This item has 5 stars
of a maximum 5
Rated 5/5 from 4 ratings
You need to be signed in to place a review.