We have created these KS1 daily home-learning timetables to help your children aged 5-7 (Years 1-2) stay engaged and entertained from 9am–3.15pm!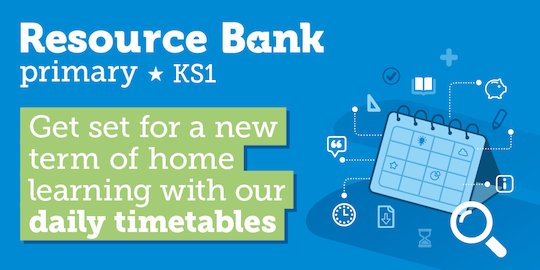 Each timetable includes an hour's learning on the core subjects of English and Maths, with sessions for other curriculum coverage and time for reading, breaks, snacks and daily exercise. Of course, some younger KS1 children will require more parental support but the activities are designed for self-led learning as much as possible.
*Remember not all days will go to plan and your child might not always be able to sit and work quietly for the allocated time. If needed, allow your child/children to pick and choose which activities they would like to do, or encourage them to focus on just one piece of learning per day.
Timetables:
1. Monday
2. Tuesday
3. Wednesday
4. Thursday
5. Friday
Monday
Time:
Subject:
Notes:
9.00-9.30
PE
Outcome/purpose:
Continuous exercise for 30 minutes.

Instructions:
Create an obstacle course around the home for example, jumping over cushions, jogging on the spot, star jumps, crawling under the table, etc.

Optional parent support
Help your child to plan and build their obstacle course. Time them to see how long it takes them to complete.
9.30-10.30
Maths

Outcome/purpose:
Practise addition and subtraction skills.
Practise multiplication skills.

Instructions:
Download the Quick Practice – Addition and Subtraction pack.
Go to page 4 (for Year 1 pupils) or pages 5-6 (for Year 2 pupils). Complete the activities on the pages.

If you have time, complete this multiplication worksheet.

Optional parent support:
Check your child's answers for errors and help them with any corrections.
Explain that the equals sign and answer, can come before OR after the calculation (relates to the activities on page 4 and page 6).

10.30-11.00
Break
Pop out for your daily walk or exercise!
Remember to have a healthy snack such as a piece of fruit and don't forget to wash your hands before you eat.
11.00-11.30
Reading
Outcome/purpose:
To read for 30 minutes.

Instructions:
Snuggle up with a book! Choose one of your favourite books and read for half an hour.

Optional parent support:
Ask your child to read aloud to you and ask them questions about the story. Such as:
Who is your favourite character? Why?
What do you predict is going to happen?
11.30-12.30
Science

Outcome/purpose:
To learn about the life cycles of animals.

Instructions:
Download and print off this worksheet.

Cut out the life cycle jigsaws for the frog and butterfly and mix up the pieces.

Spend time putting the jigsaws pieces back together. Can you work out which life cycles pieces belong together? Did you get any of them mixed up or in the wrong order?

When you are sure that the jigsaws are correct, stick the lifecycles on to paper.

Colour in the completed life cycle pictures.

Label the lifecycles.

Use the pictures to explain or act out the story of that animal's life to someone else.

(Activity adapted from Circle of life)

Optional parent support:
Help your child to finish the jigsaws if they find them too challenging to finish independently. Ask them to explain the lifecycle of each animal.

See more detailed explanation of frog and butterfly lifecycles.

Note that children should always be supervised when using scissors.

12.30-1.30
Lunch
If you have a garden or balcony, try to get some fresh air after lunch. Don't forget to wash your hands before you eat!
1.30-2.30
English

Outcome/purpose:
To develop understanding of the meaning of texts.
To understand the use of pronouns.

Instructions:
(Year 1 children)
Download Wizard Wizz makes lunch – questions.
Read the story and answer the questions at the bottom of the worksheet.

Please note: This reading may be challenging for Year 1 children. You may want to read it to your child first, then encourage them to read it themselves.

(Year 2 children)
Download Close Reading Non-fiction – 'On Top of the World text and questions Year 2.
Read the email and then follow the instructions in the text-marking box. The answer the questions on the next page.

If you have time, complete the first page of this Word Pronoun worksheet.

Optional parent support:
(Year 1 children)
Discuss the answers to the comprehension questions.

(Year 2 children)
Use the answer sheet to check your child's answers to the 'Close Reading Non-fiction – 'On Top of the World' text and questions'. Answers can be found here.

2.30-3.15
Art
Outcome/purpose:
To create a newspaper collage.

Instructions:
You will need: old newspapers, A4 paper, glue, scissors.

Draw a rough sketch of a face outline on a piece of A4 paper, drawing a vertical line through the centre of the face which should also include a simple nose and mouth shape.

Cut the half-face shape from the paper and use as a template, placing one section onto a chosen section of newspaper.

Draw around the face section and cut out.

Do the same with the opposite half but choose a contrasting section of print, maybe using a section containing images or text on a coloured background.

Glue the two face sections onto a contrasting sheet of paper or card, leaving a small gap between the two halves. It looks good if you place your face at an angle to the background paper.

Add a simple rectangle of paper as a neck and also the very top of a T shirt or jumper.

Add two eyes, sections of hair and any extra bits you fancy, such as bows, a neck tie, earrings or a couple of buttons.

Finish by outlining all sections with black felt pen.

(Activity adapted from our Collage crafts article.)

Optional parent support:
Help your child to draw the face sections. View an example of a finished newspaper collage face.

Your child may need help drawing a halfway line.
Note that children should always be supervised when using scissors.

Member-only content
Scholastic Resource Bank: Primary - join today!
Over 6,000 primary activities, lesson ideas and resources
Perfect for anyone working with children from 5 to 11 years old
Unlimited access from just £1.25 per month
Join now
Already a member? Sign in below.
Published 17 April 2020
Reviews
This item has 1 stars
of a maximum 5
Rated 1/5 from 1 rating
You need to be signed in to place a review.