Original article published 3 Sept 2009
Make phonics exciting with treasure hunts and dinosaurs in this first of a new, three-part series offering ideas and activities from Helen Bromley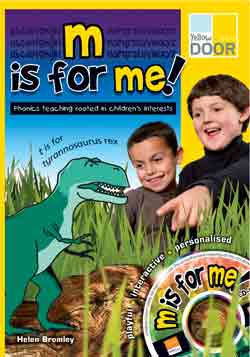 Looking for letters
Begin by downloading the four free PDFs for the letters S, T, P and A. On each page you will find a large number of a single letter (both upper and lower case), in a variety of fonts and distributed randomly across the page. Look at the letterscape pages with your class and talk about the different ways the letters are represented. Can the children see any letters that are the same? Can they match upper and lower case in the same font? Do they have any favourite fonts?
One engaging way to talk about letter names and sounds is to go on an environmental print search. Explain that you are going on a special treasure hunt. You could also say that the children are going to be detectives. Print off multiple copies of the letterscape pages and give the children marker or highlighter pens. The children can work in pairs or small groups and look for words both in and around the setting – eg, advertising hoardings, street names, or even the name of the school. When they see a letter s, a, t or p in a word, they can circle or highlight a letter on the corresponding letterscape sheet. Using environmental print in this way helps young children to see themselves as readers. It is important that they understand that reading is all around them as well as in books!
Log in to your account to read
Reviews
You need to be signed in to place a review.