Young children are assailed by many different views and interpretations of the world. It is very difficult for children to accommodate and make sense of them all. We can help them relate often abstract ideas to their own experiences of the world by presenting these ideas in a practical way. Play gives children time to reflect and organise their thoughts and start to make sense of their world and its different cultures and belief systems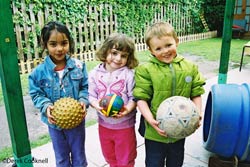 Tips, ideas and activities
Tell the children you are all travelling into space as you have been invited to a meal with the aliens who live behind the silver screen. Consider: What will they give us to eat? Talk about the need to accept that different people eat different things. How will we accept the aliens' hospitality even though we might not like the food or drink they offer us? Maybe we can taste a little and say, 'Tank you, that was delicious'. Talk about how the aliens would feel if you said, 'Ugh! That was disgusting'.
Organise an exotic fruit party outside where the children try lots of different fruits. Encourage them to describe the taste and say whether they like it.
When learning about festivals such as Divali, Chinese New Year, Eid, Easter and Christmas, it is useful to base the discussion on themes common to all of the celebrations: people send cards; they get new clothes; they visit a special place to pray; they eat special food; they visit family and friends and give presents. Children can relate new information about other cultures and beliefs to their own knowledge of festivals.
Celebrate the differences that present themselves within your group: skin colour, eye colour and go on.
Have a look at the

NIPPA

website. This early years organisation in Northern Ireland provides information and training for parents, childcare providers and local authorities.
Log in to your account to read
Reviews
You need to be signed in to place a review.