In this series, Fe Luton explores the ways in which you can set up and run areas of continuous provision. Ideas for organisation, resources and planning are explored.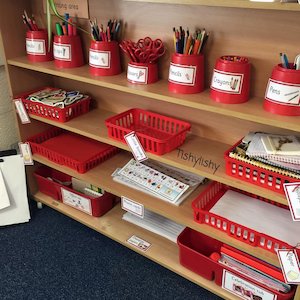 Image: Early Years ideas from Tishylishy
How should my writing area be arranged?
Encouraging and supporting children to develop writing (or initially mark-making) skills can be a tricky one to get right. Children need to develop confidence in their skills, without feeling that there is a 'correct' way to work in a writing area. They also need to be exposed to the purposes of writing and not recoil at the idea of writing for writing's sake. We generally write for one of three reasons: to communicate something, to remember something, or to create something. We need to ensure that we use these three purposes as a benchmark against what we ask our children to do.
Your writing area may well prove highly popular with many children, but there will also be an array of children who are less keen. Often a lack of interest is reflective of a lack of confidence and skill and you will find yourself having to work hard to entice these children in. This can be done either by incorporating their passions into the area through theme or material (mark-making with cars, for example) or by taking aspects of the writing area to those other areas that interest them (for example, wipe pens in the DUPLO).
Consider the following when organising your writing area:
Have you got a mobile writing trolley or carriers? You can also use writing belts and themed writing bags that children can carry with them so that they get 'mobile' opportunities to write in all areas
It's also important to have static mark-making and writing resources available for children to use in every area of the early years provision in your setting – including outside
Don't dictate that children have to 'write' in this area as this will put off a large proportion of your class who feel that they can't do this
Many children will be highly motivated by the availability of embellishing resources – personalising and decorating writing is an easy win
Try to avoid using the term 'practising' as this may stifle children in terms of having a go on their own – it may undermine confidence and teach them that writing is only correct when it looks a certain way. By the same token, try to challenge children who spend a lot of time in the writing area yet tend to be practising at a level lower than their potential
Your writing area needs to be well organised and resources should not be overwhelming but interesting. Try and change the resources on a regular basis so that it doesn't become stagnant
Have you thought about incorporating examples of writing (including those from the children) to inspire children?
Offer purpose to your writing table through real challenges – writing notes to the cleaners to apologise for excess mess or writing shopping lists for a cooking activity
Children should have the opportunity to make marks/write on a large scale as much as a small scale – you could use the backs of rolls of wallpaper for this or use chalk or water on the floor outside
What resources should I have in my writing area?
Writing utensils – pencils, pens, felt tip pens, wax crayons, chalks, whiteboard pens, coloured crayons – make sure that they are well organised and that pencils are sharpened and pens are working
Paper – ensure you have a broad array of paper available: various sizes, shapes, textures, lined and unlined, coloured and plain, booklets, scraps, blank greetings cards, notepads, sticky labels, sticky notes, postcards, diaries and address books, forms, invitations and envelopes. A range of paper will draw greater interest. Also, have themed paper for interest and make sure that you have plenty of whiteboards and chalkboards available. You may also wish to include small sand trays to write in
Written word – make sure that any words, name cards, and books that you have in this area are purely for reference and not dictating to children how they should be writing. These resources are for children to use should they wish. Emphasise to children that having name cards for them to copy is more about practising the letter formation than it looking identical to the 'perfect' writing that forms their name
Embellishments – stickers, real 1p stamps, Sellotape and string, paper clips, treasury tags, stickers and wrapping paper
Support materials – clipboards, rulers and scissors, glue sticks, examples of writing for a range of purposes, dictionaries, wooden/gel numbers/shapes/letters, sound and formation cards
Themed resources – if your topic, for example, is autumn you may choose to add some leaves into your mark-making area so the children can make some leaf rubbing pictures
Outdoors – resources should reflect the larger scale and often more natural resources that children are drawn to outside. Large chalks, clipboards, paint brushes and buckets of water, thick marker pens and rolls of wallpaper could all be available in an outdoor 'writing crate'
Member-only content
Scholastic Resource Bank: Early Years - join today!
Over 2,000 EYFS resources, activity ideas and games
Perfect for anyone working or playing with children from 0 to 5 years old
Unlimited access from just £1.25 per month
Join now
Already a member? Sign in below.
Reviews
You need to be signed in to place a review.