In this series, Fe Luton explores the ways in which you can set up and run areas of continuous provision. Ideas for organisation, resources and planning are explored.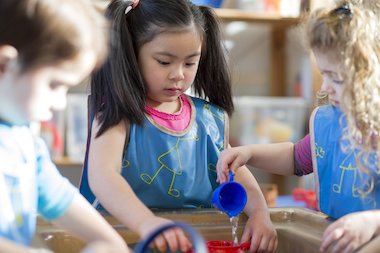 How should my water area be arranged?
We often bundle sand and water into the same section of our planning, however, they are completely different and need to be planned for and developed separately. They can (and should) both be offered on different scales – a large scale water container either inside or outside can be complemented with smaller water play or 'non-contained' water play, such as with a hose or in puddles.
Water play tends to open up opportunities for experimental play (filling, pouring, floating, sinking, absorbency), exploration and mathematics, but it can also be used to cover all aspects of the curriculum. The real key to an effective water area is to ensure that children are not just practising skills but developing new ones!
Consider the following when organising your water area:
Don't be prescriptive! Water is a basic natural material that we should make sure is used without constraint or with the expectation that there is a 'correct' approach to its use. The main basic skill you are enabling is the exploration of water and its nature
Water is a fascinating substance and children are generally drawn to it (how often do we have to set boundaries on the number of children in such an area at one time – this in itself is a great opportunity for development of the language of negotiation). Find a way that works for you and your children, such as having:

five aprons available for five children to use – children will quickly learn the art of negotiation and understanding of fairness so that they can organise this themselves
a specific day or session that named children can use it, although this can be quite restrictive
a maximum time limit for being in the area (though long enough for meaningful exploration and concept development)
a waiting list!
plenty of water play (e.g. inside and outside water play for five children at each station enables a third of the class at a time to be engaged with it)
smaller individual trays, baby bath and basins

Make sure resources are not too prescriptive and are easily accessible so that children can develop their ideas and test out hypothesises
Don't forget to include resources that will also develop gross and fine motor skills and hand-eye coordination – having mops, sponges and cloths for cleaning up also develops motor skills!
Consider the importance of language development in water play – the limiting factor of space naturally leads to the development of cooperative language as well as learning to negotiate. As children play, they will use and learn specialist words for equipment, observations, positional language and scientific concepts
Consider safety issues: don't use things that might easily break, rust or that have sharp edges. Consider the potential dangers of straws and things you add to the water (e.g. soap) that might cause skin reactions. You also need to consider slippery floors
Try to have equipment stored in slotted trays with a water-catching tray or towel underneath to ensure that resources dry properly. Children should easily be able to self-select resources as a result
Encourage children to suggest items they would like included in the water area and try to change and modify resources to keep children interested, inspired and excited about the area – it is very easy for water to stagnate and become a low level learning experience
Aprons should be water area specific and stay in situ – especially if you are monitoring the number of children in the area by limiting the apron numbers.
Consider the use of natural, outdoor resources in outdoor water play – adding in grass, for example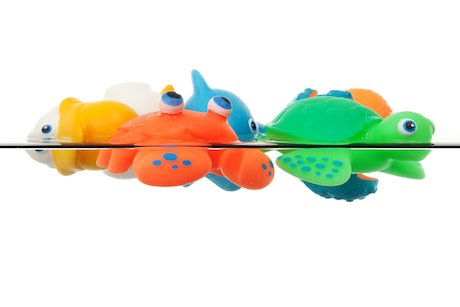 What resources should I have in my water area?
Fantasy/imagination
Sensory
Motor skills
Small play characters
Objects made from the same material, eg wood, plastic, metal
Tongs
Rubber/plastic fish/sea creatures/frogs/ tadpoles/ducks etc
Objects of the same colour
Nets
Boats
Transparent, shiny or opaque objects
Scoops
Rocks/pebbles
Bubble bath
Hand whisks
Shells
Food colouring
Basting bulbs
Food colouring
Essential oils: lemon, lavender or peppermint (check health and safety)
Egg beaters
Cups & plates
Glitter
Medicine droppers
Cutlery
Changes of water temperature, eg Ice cubes
Squeezy bottles
Washing up brush
Cornflour
Sponges
'Treasure'
String
Foam or rubber letters and numbers
Foil shapes
Pasta
Sugar shaker
Dolls/dolls clothes
Bottle brushes
Clothes line/pegs
Spray bottles
Wash board
Rubber gloves
Member-only content
Scholastic Resource Bank: Early Years - join today!
Over 2,000 EYFS resources, activity ideas and games
Perfect for anyone working or playing with children from 0 to 5 years old
Unlimited access from just £1.25 per month
Join now
Already a member? Sign in below.
Reviews
You need to be signed in to place a review.