In this series, Fe Luton explores the ways in which you can set up and run areas of continuous provision. Ideas for organisation, resources and planning are explored.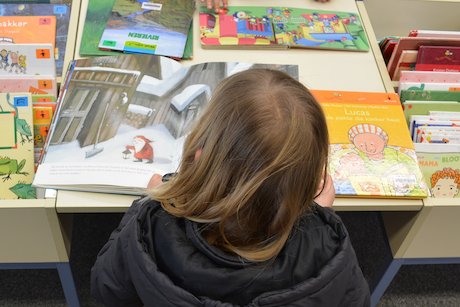 How should my book area be arranged?
Many children don't bother visiting book areas, or if they do are often off elsewhere quite swiftly, so you need to work hard to make any such area inviting, relevant, fresh and a little bit intriguing. Creating mystery, offering reading 'dens' and even adding in fairy lights can all add to a sense of interest and makes the area a little bit magical. Even having guest 'readers' (parents/grandparents/headteacher etc) come and visit for half an hour and hang out in the area can have the same effect as a famous author signing books in a bookstore!
Consider the following when organising your book area:
Don't over clutter your book spaces by having all of your resources out at once. Not only will it keep the space calm and ordered, but also allows you to rotate the resources more often
Don't forget to have outdoor reading areas as well. Reading tents or dens are a real draw for children who like to learn outside
As well as having 'new' material for children to explore, make sure that you embrace those things that specific children or groups of children are interested in
Remember that children love a bit of mystery or creative resources – have a 'lucky dip' book box of gift wrapped books, or set up some of your classroom toys so that it looks like they are reading books
Remember that magazines (especially ones that children are familiar with from TV), spoken word books and story apps are all supporting the development of reading and love of books and stories. Try to include some children's recipe books and annuals that offer an alternative to the 'usual' non-fiction books on offer
Having story bags or props that relate to popular stories will enthrall some children – it can be something as simple as an array of fun pants for Dinosaurs Love Underpants
Keep 'rules' to a minimum. If children want to lie on the floor to read, is that really a problem? Adults often 'lounge' to read and if children are leaning on their forearms they are developing muscle strength!
Work your book area like a library and have 'request forms' that children can fill out (or get help to fill out) in order to ask for specific books
Let the children manage the area and offer suggestions/change or organise the reading materials. Children can bring in (named) books from home to add to a 'favourite books' section
Have a notice board for children to add in pictures of favourite characters or stories – make sure it is a child height! • Dens around the classroom – reading is huge fun tucked in under a table den with material draped over the sides
What resources should I have in my book area?
A range of reading materials – books (fiction, non-fiction, poetry etc) magazines, comics, and catalogues. Make sure that you keep your supply of books fresh by borrowing from your local book service or library
Interest-specific materials – note what children are currently interested in and try to offer both reading materials and props that reflect this interest
Story bags or props – children can help to make these for favourite books. Include non-fiction books in this – dinosaur toys and measuring equipment partnered with a dinosaur encyclopaedia can encourage in those children fascinated by facts over fiction
Audio books – children will often happily listen to stories, so make sure that you have an array of familiar stories on audio
Book apps – many publishers are now offering interactive apps to accompany picture books (Nosy Crow produce high quality apps that are often free). Just make sure that you check their suitability before offering them to children to use
Cushions, blankets etc – think about how to create an inviting space, whether it is a larger book area, or small reading dens dotted around the classroom and outdoor area
Member-only content
Scholastic Resource Bank: Early Years - join today!
Over 2,000 EYFS resources, activity ideas and games
Perfect for anyone working or playing with children from 0 to 5 years old
Unlimited access from just £1.25 per month
Join now
Already a member? Sign in below.
Reviews
You need to be signed in to place a review.