This information text compares and contrasts two rivers which, although quite different, have an equally big impact on the landscape around them and the people who live near to them: the Amazon and the Danube.
Information is presented through photos, maps, captions and labels as well as text paragraphs, bulleted lists and information boxes.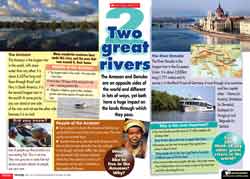 Shared teaching and learning
Shared reading
Discuss what the children know about rivers. What rivers are in the local area?
Look at the topic words in the text – for example, piranha, scientists, discovered. Talk with the children about the words' meanings.
Look at sentence structures (short, factual statements interspersed with the use of complex sentences, used to add additional information).
Discuss how the information is presented (eg, blocks of text, bulleted lists, captions, etc). How do the photos/maps add to the information?
Log in to your account to read
Reviews
You need to be signed in to place a review.