It's every crew for themselves, as children get to race against each other to unearth the treasure!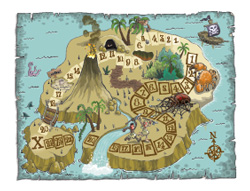 In this treasure hunt quest, the first player or team to reach the X and uncover the treasure is the winner. In order to do this, the teams will need to have their wits about them, as they must solve a series of riddles, questions and clues – or risk being sent to Davey Jones' locker. Yes, it's every crew for themselves on the treasure hunt, as this game really won't be plain sailing!
Preparation
Log in to your account to read
Reviews
You need to be signed in to place a review.