Thinking skills: Launch creative thinking!
5 Stars
22 September 2008
Add to My Folder
This item has 5 stars
of a maximum 5
Rated 5/5 from 1 rating (Write a review)
Use the famous Apollo 13 mission to boost children's thinking and learning skills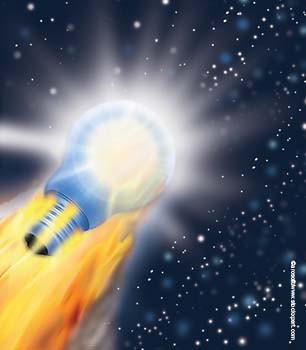 Help launch children's light bulb moments with creative thinking skills activities
In the real world, we apply a range of thinking and learning skills to reach an objective. Whether it's juggling appointments, deciding which alternative route to take when a road's closed or deciding if you agree with something or not – all of the above require us to think, apply and learn from our actions. The lesson plan that follows, taken from Creative Activities for Thinking and Learning Skills, Ages 7-11 by Mike Fleetham (Scholastic, £20 PB), asks the children to use a combination of thinking and learning skills to find a solution to a problem, based on what they know about the Apollo 13 space mission.
Setting the context
The crew members of the Apollo 13 mission were saved by the creativity of a group of scientists and engineers on Earth. Under time pressure, they laid out only the materials and equipment available to the astronauts in Apollo 13. They worked with these limited resources to produce a life-saving solution to the problem of a damaged spacecraft. Allow the children to copy this scientific way of problem solving. In teams, provide the children with limited resources and time to come up with a solution to one of the following problems:
A thief is stealing ice-creams, buckets and spades from children on the beach.
The show starts in 15 minutes, the orchestra has arrived but the instruments have not.
A blind scientist needs to be able to find his way around the laboratory.
Rats are overrunning our public buildings.
Log in to your account to read
Reviews
You need to be signed in to place a review.