This downloadable resource presents the legend of Camelot through a slide show, then sets up a class discussion examining evidence that Caerleon, in Wales, is the real Camelot.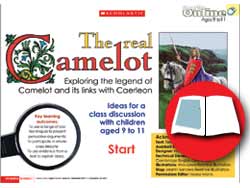 Previous learning
Children will benefit from some knowledge of: features of a legend; differences between formal and informal language; features of persuasive and balanced arguments; note taking; using the internet under supervision; appraising texts for their usefulness; group discussion tasks.
Log in to your account to read
Reviews
You need to be signed in to place a review.