This Anglo-Saxon folk tale about two young captives, fair Hiltgunt the cunning and brave Waldere the hero, is presented as a virtual storybook, in a style reminiscent of an illuminated manuscript.
Retold for Literacy Time PLUS by the author of the Grim Gruesome: Viking Villain books, Rosalind Kerven, it tells their story as they outwit the mighty Attila of the Huns.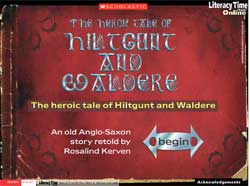 Before reading
Ask the children what they know about folk tales and traditional stories. What would they expect to be included in the story: types of character; types of setting; dilemmas, conflict and resolution?
Discuss how tales would have been presented in Anglo-Saxon times – not in book form but orally by storytellers. What implications would this have? They would not be static; they would change with each telling although key elements would remain the same.
Shared reading
Log in to your account to read
Reviews
You need to be signed in to place a review.