Our handy topic summaries can be used to support homework, as well as providing helpful collections of related resources for teachers to use in school or for parents to use for home learning.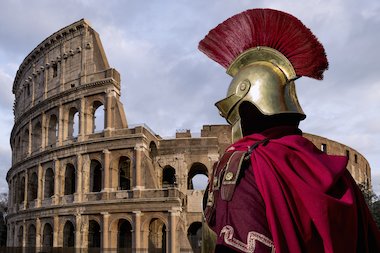 Locate Italy on a European map and Rome on the River Tiber. This was where the Roman civilisation developed between about 700-800 BCE. Rome was at first a republic ruled by elected leaders but later came under the control of powerful Emperors and statesmen like Julius Caesar, Claudius and Constantine. Rome went on to conquer much of the known world at that time and reached the peak of its thousand year rule under the Emperor Trajan around 100-120 BCE.
Roman power was established and maintained by a strong, well-disciplined and highly trained army that used the best and most powerful weapons of the time. Many soldiers were Roman citizens but they also used mercenaries (soldiers from other countries who would fight for them for money and power). Roman armies were split into smaller sections called legions and cohorts and were able to march long distances quickly as well as build defensive walls and forts to defend their Empire.
Log in to your account to read
Published 28 July 2020
Reviews
You need to be signed in to place a review.