This audio poem by Brenda Williams is based closely on the opening chapter of the well-known story, The Iron Man by Ted Hughes.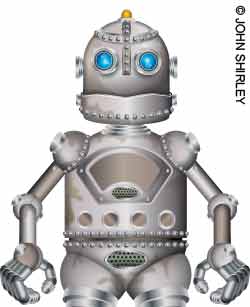 Shared learning and teaching
Listen to the poem without prior discussion. Collect first responses. What do the children think it is about?
Listen again, giving specific clues to listen for. Ask for feedback again, and establish what is happening, justifying with words or phrases from the poem.
Ask children to imagine they are hidden on the beach, first at the beginning of the poem, then at daybreak. Listen to the poem, recording what they would hear, see, smell and feel. Discuss ideas, exploring why they would see/hear/feel things not explicitly stated.
Describe the Iron Man, referring to the poem's imagery to explain how information about his size, appearance and mystery is conveyed. Discuss the descriptive devices used, introducing and explaining appropriate vocabulary (image, figurative, adjective, metaphor, simile, vivid).
Start a Working Wall display of the similes, metaphors and adjectives used. Discuss the effect of headlamp eyes… crablike hand.
Look at how repetition and near repetition are used for effect, as in Crashing… crashing; Scattered and battered; Silence, silence.
Log in to your account to read
Reviews
You need to be signed in to place a review.