Once again, we have teamed up with Yellow Door to offer you a mini series of interactive resources and activities focusing on three traditional tales. This month, get set to trippetty trap over the bridge…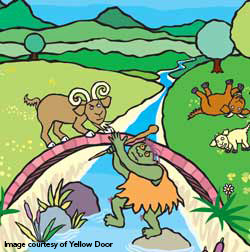 Tell the children the traditional story of 'The Three Billy Goats Gruff', or read a storybook version.
Talk about the story with the children. Count the three goats and focus on positional language, such as 'across', 'over', 'behind', 'in', 'on' and the 'other side'. Look at the goats and ask the children how they are different from each other. Encourage them to use the words 'smaller' and 'bigger'.
Ask the children questions to reinforce the story and each character's role and motives. For example:
Who was the first goat to cross over the bridge?
Why did the little goat want to cross over the bridge?
Why did the troll want to stop them?
Why did he let the first two goats past?
What happened to the troll in the end?
Log in to your account to read
Reviews
You need to be signed in to place a review.