Introduce Spanish language to Year 4 with the help of a fun and comprehensive multi-resource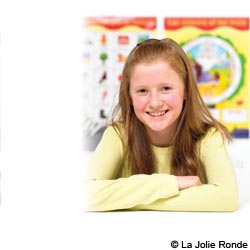 Teach children some core vocabulary
Part 2: 15 mins
Teaching sequence (refer to relating child activities below)
Introduce children to the text: 'El Monstruo'. (See PowerPoint® El monstruo on resource CD). Begin by slowly reading through the text, demonstrating meaning through gesture. Try to avoid giving translations in English during the first reading to encourage the children to decipher meaning through the pictures on the PowerPoint® and through your actions.
Read the text for a second time and check understanding. Ask children which words they recognise.
Distribute props/flashcards to individual children. Read the text again. This time, the children holding props must listen to hear when their prop is mentioned and then come to the front to form a line.
Child activity
Children listen to the short story and study the pictures.
Children listen again to the story. They focus on specific words and attempt to understand the text.
Children hear the story again and listen for key words and phrases. They respond accordingly.
Part 3: 15 mins
Teaching sequence (refer to relating child activities below)
Ask children if they can recall the names in Spanish of any colours mentioned in the text: 'El monstruo'. Then see if any children can recall any body parts mentioned in Spanish or in English.
Distribute parts of the text on card to children and read the text once again. The children must listen attentively and wave their card in the air as they hear the phrase.
Teach the body parts mentioned in the text. Include choral repetition and actions. Encourage children to stand and touch the part of the body as they learn and chorus the Spanish word.
Play 'Simon says' (;Simón dice') with the new vocabulary.
Lead the children in chanting or singing the new words: _Cabeza, pelo, nariz Boca, dientes, ojos_ You could encourage them to swap the words around to make up their own rhythm and then present it to the class.
Play Canta en español 1, Track 22: 'El monstruo'. If time, use the instrumental which follows to encourage the children to fit in their own words.
Log in to your account to read
Reviews
You need to be signed in to place a review.