Use Pie Corbett's advice to encourage your class to tell stories and recount events aloud, helping improve their writing skills.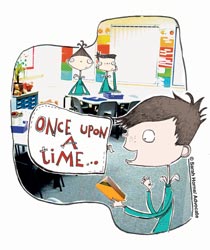 Everyone knows that talking is important but how do you teach it? The new materials provide a framework – but we still have along way to go to discover how this might be taught effectively. What of those children who are new to the English language or the increasingly large number who arrive in Year 3 and whose language lags behind? Perhaps, we need to experiment with modelling language structures and then putting children into situations where they need to use those structures themselves – hence 'talk the text'. This will improve talk as well as writing.
Many teachers have come to the conclusion that it is impossible to write sentences unless you can speak them – and you cannot speak them, unless you have heard them. Perhaps, the answer to improving writing lies in children becoming more articulate – being able to tell stories, recount events, explain, and discuss with fl uency, power and clarity. Maybe this is the next step that we need to focus upon. After all, in the real world the gift of the gab matters! As the Cornish saying goes 'The tongueless man gets his land took'.
In this article, I look at each of the four key strands, and offer ways to interpret them into your teaching.
1. Speaking
Log in to your account to read
Reviews
You need to be signed in to place a review.