Swine flu is now officially the first flu pandemic for 40 years, and it is feared that millions of people will be infected. Dr Gillian Jenkins explains how it can affect young children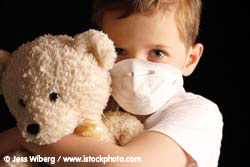 What is swine flu as opposed to normal flu?
Swine flu is a respiratory illness caused by the new H1N1 strain of the Influenza type A virus, which contains some elements of a flu virus found in pigs. It is transmitted in the same way as seasonal flu strains that we see each winter, through moisture droplets in the air we breathe, sneeze and cough out. It can also survive on, and, therefore, be transferred from, our skin and the surfaces we have contact with, such as door handles, toys, books, linen, and so on.
Log in to your account to read
Reviews
You need to be signed in to place a review.