This fun, non-competitive track game for three players is designed to provide practice at adding the suffixes er or est to words and using comparative language.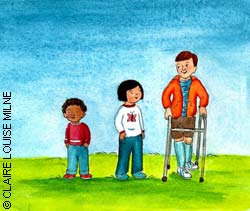 Before playing
Explain that this game requires three players – but they need to follow the route together, playing as a team, rather than against one another.
Talk the children through the layout of the track: it is made up a series of three squares, numbered 1, 2 and 3, then a large box containing a picture and a word. Each picture shows three images that can be compared. Linked to each picture is a factual sentence. The journey starts at the bottom, where children simply add the suffix to the root word. As they climb up through the clouds, some of the root words need to be adjusted to add the suffix.
Read the two suffixes in the top left corner and list some words which have these suffixes.
Log in to your account to read
Reviews
You need to be signed in to place a review.