Short story competition: seven- to 11-year-olds winner announced!
15 May 2008
Add to My Folder
This item has 4 stars
of a maximum 5
Rated 4/5 from 60 ratings (Write a review)
From the crazy to the cute, the unlikely to the action-packed, the judges have read them all. And the winner is…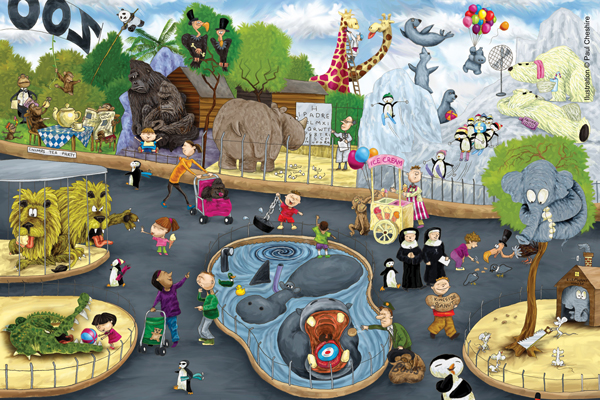 Children used this illustration as inspiration for their story
More than 1000 children entered this age category, and the judges spent the best part of a week reading the entries. They were incredibly impressed with all the children's work – and suspected that many of the children may turn out to be the next generation of writers!
Some of the more memorable entries included: a Kung-fu panda meeting Jackie Chan; a penguin becoming prime Minister of Poland and solving unemployment; Sharon Osborne signing the zoo up to appear on X-Factor; animals going back to the wild; animals entering the zoo from the wild; penguins becoming nuns; nuns becoming penguins; chimps winning the lottery; penguins actually being super spies from Russia; and blind rhinos.
However, one story stood out from the crowd and that was by Holly Shutter from Moorlands Primary School in Huddersfield.
Holly, aged nine, expressed such a clear voice in her writing style that the judges were gripped from the start when they read 'The Day I Ran the Zoo'. They also admired the way Holly could sustain a whole story in the first person narrative. The judges agreed the tone of the humour was just right, especially the line, 'Can I just warn the lady in the cheap orange jumper…'! A real career as an observation writer in the making!
The two runners-up for this category are Catherine Caruth from Leweston Prep School in Dorset and Daniel Hudson from St Wystans School in Derbyshire.
Catherine, aged 11, wrote a moving and mature story about 'The Little Hippo' who tied balloons around his body so that he could float up to heaven and visit his father, who had recently died. The judges admired the way Catherine chose to write about a difficult topic – and still ended the story on a positive note.
The other runner-up, Daniel, adopted a wonderfully light-hearted approach when he wrote 'Make your Mind up Jerry!' The judges felt the story, about a giraffe who can't decide what colour his spots should be, would make a wonderful picture book for young children. It really conjured up great visual images in the mind – and it's quite clear now that giraffes shouldn't go changing their spots!
Highly commended
The judges also commend the following children for their super stories:
Nicholas Jones, a Year 6 child from King's St Albans School in Worcestershire
Ellen Hodgetts, another Year 6 child from King's St Albans School in Worcestershire
Safia Khan, aged nine, from Skellington St Lawrence Primary School in Lincoln
Children in the Year 5 literacy set at Watton Junior School in Thetford
Cressida Williams from Leweston Prep School in Dorset
Paul Fredericks, aged ten, from Woodford Green Prep School
Ellie Reidford, aged ten, from Markethill School in Aberdeenshire
Victoria Brown, aged eight, from Hill House St Mary's in Lincoln
Cameron Thomson, aged 11, from Larkswood Primary School in London
Poppy Atwell from Heatherton House School in Buckinghamshire
Hannah Walker, aged nine, from St Edmund's Catholic Primary in Surrey
Katelyn Crooks, aged eight, from Ballycarrickmaddy Primary in Lisburn
Alice Roberts from Hale Prep School in Cheshire
Shivani Kotecha from Heatherton House School in Buckinghamshire
James, a Year 4 child from Netherthorpe Primary School in Sheffield.
Log in to your account to read
Reviews
You need to be signed in to place a review.