Robert Burns
All about Robert Burns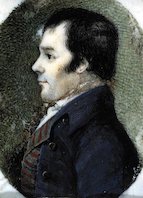 This Burns Night, find out more about one of Scotland's most famous sons.
Key dates
25th January 1759—Robert Burns born and Alloway, Ayr
1765—James Murdoch becomes tutor to Robert.
1784—Burns moves to Machline
1785—Marries Jean Armour
July 1786—Published his first book of poems.
May 1787—Set off on a tour of Scotland and Edinburgh edition of works published
1788—Moves to farm at Ellisland
September 1789—Moves to Dumfries and begins work for the Excise in Dumfries-shire
21 July 1796—Died in Dumfries at 37
Key facts
Widely regarded as the National Poet of Scotland, known as The Bard (in Scotland), The Ploughman Poet or the Bard of Ayrshire.
Mainly home educated, he began working life as a farm labourer at Mount Oliphant Farm, Alloway.
Poems, chiefly in a Scottish dialect, his first book of poems known as the Kilmarnock edition, cost 3 shillings and sold out within a month.
His second edition of poems, The Edinburgh edition, published in 1787.
The first volume of The Scots Musical Museum was published. This was done in collaboration with a music-seller, James Johnson, and was a collection of Scottish folk songs.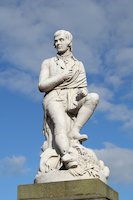 Publications
Poems, chiefly in the Scottish dialect
The first collection of Burns's work to appear in print. Published in Kilmarnock by John Wilson in 1786, known as 'The Kilmarnock edition'. It includes the poems To a Mouse and To a Louse.
The Calf
Published in 1797, it was written in order to win a bet with Gavin Hamilton that he 'would not produce a poem on the subject in a given time'.
The Scots Musical Museum, by James Johnson
Although produced by Johnson, Burns was editor and principal contributor. Includes Auld Lang Syne. Published in Edinburgh by N Stewart, 1787-1803.
Scholastic resources
Events
Links