Activities to help children stay safe on the roads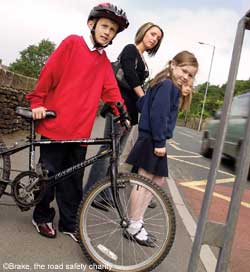 Shockingly, every ten minutes, a child or young person is killed or injured on UK roads. You can help stop appalling deaths and injuries by giving children the knowledge, skills and attitudes to keep them safe when they're out and about on the roads. And, Road Safety Week, which runs from 23 to 29 November, is a great time to start.
As it affects their everyday lives, road safety is a topic that many children feel strongly about and will enjoy exploring. Here are some activity ideas from Brake, the road safety charity that coordinates Road Safety Week.
Sensitivity issues
Before teaching road safety, check whether any children have been bereaved or hurt in a serious road crash, or witnessed one. Talk to them and their carers privately about how best to support them. Some children may wish to talk about their experiences with their classmates; others may prefer not to be present in lessons that discuss death or injury. Brake's division, BrakeCare, has developed resources for teachers working with children bereaved by road crashes. Call the BrakeCare helpline on 0845 603 8570 for information.
Log in to your account to read
Reviews
You need to be signed in to place a review.