These four poems (classic and modern) on the same theme provide plenty of opportunities for comparing and contrasting different poetic forms, rhythms and moods. They include a kenning and shape poem, a chant and a conversation poem.
These teachers' notes accompany the guided reading leaflet from Literacy Time PLUS Ages 7 to 9, May 2009. DOWNLOAD THE LEAFLET HERE .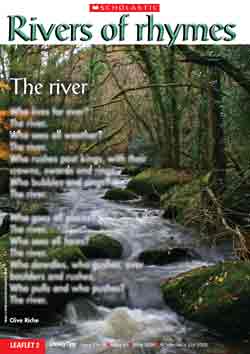 Before reading
Give out copies of the activity sheet below and explain that you are going to compare four different poems about rivers. Suggest that the children make notes on the chart as you discuss the poems.
What effects are the poets trying to achieve with the poems' shapes?
Log in to your account to read
Reviews
You need to be signed in to place a review.