Challenge the children to pick the correct definition for 24 Rivers topic words in this fun, interactive game, complete with printable glossary.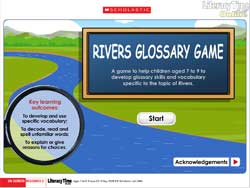 Shared teaching and learning
Before reading
How many rivers can the class name? List geographical terms related to rivers. Discuss how these should be presented in a dictionary or glossary – eg, alphabetically.
Look at the word list in the game. Try to create your own definitions.
Is it important to read the rules before playing or better to find out as you go along?
Log in to your account to read
Reviews
You need to be signed in to place a review.