Explore ways in which printmaking can create a range of rhythmic images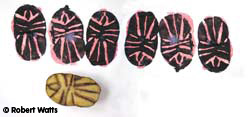 The concept of rhythm can provide a great starting-point for artwork in the early years. When it comes to making visual work, rhythm is all about repetition, and the best way of creating repetition in art is through printmaking.
The wonderful thing about printmaking is that the basic processes are so simple, yet can be developed into more complex activities as children grow older. Printing is something that children do instinctively from an early age, whether it is making handprints in the sand or wet footprints on the floor. Once they realise that they are also able to make prints using sponges, string and vegetables, they will soon be on the lookout for other objects to ink up, print and add to their portfolio.
Learning in art often takes place through experiment and conversation. Try not to guide them too closely – the great thing about printmaking is that it always offers opportunities for children to be surprised by the images and patterns that they create.
Printmaking process
Printmaking sessions typically generate more artwork than any other process. Consider planning a sequence of printmaking activities over a few days, and work with one group at a time. Encourage the children to return to prints that they made earlier in the week to see if they can be developed further, for example, by adding another layer of colour or extending a repeated pattern. Remember to find time to share examples of the children's work with the whole group – they will learn as much from each other as they do from you.
Printmaking resources
Log in to your account to read
Reviews
You need to be signed in to place a review.