This geographical text, originally published in Literacy Time Years 3 and 4, No 5, provides information about a tiny but well-known island in the Pacific. Information is presented in the text, the labelled illustration, the photograph and the data box. The text raises questions that children can investigate further.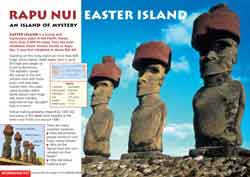 Sharing the text
Read the poster with the children and give them time to look at the data box, the diagrams and the illustrations. Hide the poster and ask the children to recall:

how the information is presented;
what information is given in the data box;
information about Easter Island.

Look at the poster, and list geographical terms and other unfamiliar words. Seek definitions of these words from the children.
Ask the children to summarise what the poster is about, using just one or two sentences. Scribe some of the answers and ask the children to select the most effective.
Consider the paragraphs and sections that form the body of the text. Look at the structure of each one – eg, Paragraph one provides the setting and details of the location, etc.
Ask the children to suggest further topics for paragraphs that might be included in a longer article – eg, climate, food and water, archaeology.
Log in to your account to read
Reviews
You need to be signed in to place a review.