Use an amusing poem to explore the good, the bad and the ugly in fairytales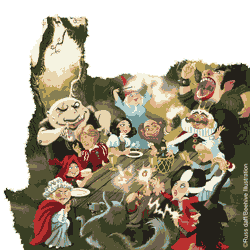 Provide children with Activity sheet , 'Here come the Fairytales' and read it together. The poem encourages children to imagine a scene where characters from many fairytales, good and bad, are gathering to enjoy a party. Encourage recognition of well-known stories and heroines, such as 'Cinderella' and 'Little Red Riding Hood', and discuss the other characters who feature in fairytales, such as a prince, witch, giant and bad fairy. Can the children list any characters from fairytales that are not mentioned in the poem, such as Hansel and Gretel, and Goldilocks? Which are the children's favourite characters? Remind them that these characters are all imaginary – they have all originated in a story that has been passed on through oral storytelling or reading. Help them to imagine a scene where books are opening up, and characters are 'falling from pages' in order to travel to the party.
Activities
Log in to your account to read
Reviews
You need to be signed in to place a review.