Encourage active citizenship in your class while stimulating lively discussion and debate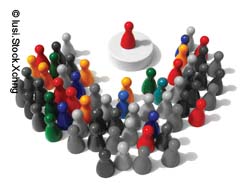 A healthy debate, which considers the different viewpoints of people in the community, can be a very positive experience for children
Unit 10 – Local democracy for young citizens of the citizenship curriculum, can sound very dry and uninspiring to some teachers, but children often see things from a different perspective. At Key Stage 2, there is often a refreshing amount of passion and idealism about the political process, especially if children have had positive experiences through schemes such as school councils.
The following ideas and activities are designed to cover all sections of the unit, while appealing to a wide variety of learning styles. The citizenship unit will really take off if the local community knows what the children are studying and are encouraged to participate in the learning. Be sure to mention it in school newsletters and on noticeboards and invite any parents or other members of the community to contribute in any way they feel able.
Log in to your account to read
Reviews
You need to be signed in to place a review.