This poem, by Colin West, is perfect for reading aloud as it has such a catchy rhythm. It features simile and alliteration as well as a simple but strong rhyming pattern. It provides exciting starting points for the children's own story writing, poetry and art work.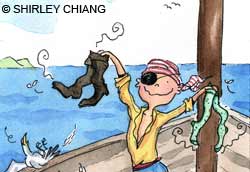 Shared teaching and learning
Before reading
Find out what the children think pirates are like. Ask them to quickly draw a labelled picture of a pirate. Discuss their ideas. List adjectives that would describe pirates. What jobs did they have to do? Ask each child to write a definition of the word pirate.
What names do the children think would be suitable for pirates? Captain Hook's crew, for example, were Cecco, Bill Jukes, Cookson, Gentleman Starkey, Skylights, Mullins, Noodler and Smee.
Discuss the poem's title. Why is the name Percy not a typical pirate name? Do they find the title funny?
Log in to your account to read
Reviews
You need to be signed in to place a review.