Discover a fresh new RE series that helps give Bible stories a modern makeover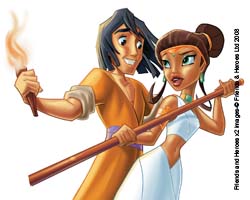 Friends and Heroes retells the Bibles stories in a fresh and appealing way
Friends and Heroes is a new television series which aims to introduce Bible stories – often the source of much of our western cultural heritage – to children between the ages of six and ten years old, whatever their faith. The programmes are designed to be appealing, fresh and exciting and are now available on fully-accessible DVDs.
Produced in the UK, Friends and Heroes uses an attractive combination of both 2D animation and 3D computer-generated animation to tell Bible stories. The programmes can be used as a springboard for many classroom projects, while a website for children aims to support and inspire their curiosity and enjoyment.
Learning from the past
Set during a fascinating and turbulent period in world history – the 1st century AD, the Friends and Heroes stories have a vivid historical context. Although the adventures take place almost 2000 years ago, Macky and his gang are guaranteed to appeal to today's children. The characters' experiences, combined with the poignant stories they tell, aim to help foster respect and encourage tolerance in your class.
Log in to your account to read
Reviews
You need to be signed in to place a review.