Use a lively Burns Night poem to celebrate the 250th anniversary of the famous Scottish poet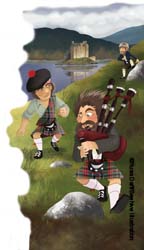 Surrounded in mystery about its origins and contents, the haggis has baffled all but the Scots themselves. One joker even created the myth that the haggis was a small furry creature, with four legs, two of which were shorter than the others, so that it could stand more easily on the steep sides of the Scottish Highlands without falling over! It is on this myth, and the reverence with which the haggis is piped in on Burns Night, that the hoax poem, on the first of the 'Robert Burns' activity sheets 'First Catch Your Haggis!' is based. When celebrating the 250th anniversary of Robert Burns, don't forget to display the stunning poster of him so that the children can put a face to the famous name.
Activities
Log in to your account to read
Reviews
You need to be signed in to place a review.