Challenge your class to help Noah re-home the animals after the flood for an engaging cross-curricular unit of work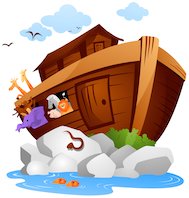 Image © lenm/www.stockxpert.com
Two years ago, having grown weary of teaching the same topics year in year out, the Key Stage 1 teachers at my school decided to move back to a more cross-curricular, creative style of teaching. We wanted to teach topics that were completely fresh to us and exciting for the children.
The story of 'Noah's Ark' is one of the most well-loved Bible stories. Noah and his family undertake the colossal job of building a wooden ark so that when God sends rain to flood the Earth, two of each species of animal will be saved. However, have you ever considered what happened when the floods subsided? That is the question posed in Where Next, Mr Noah by Mike Dickinson (Little Hippo Books). Mr Noah opens the doors of the ark and yells, 'Everybody out! Scat! Shoo!'. The bemused animals look at him and ask, 'But where do we "shoo" to?'.
So begins Mr Noah's next challenge, to relocate all the animals to the environment most suitable for them. Armed with maps and a packed lunch, supplied by Mrs Noah, the animals depart on their journeys to find their new homes. Where Next, Mr Noah? sounds initially just like a religious education lesson, but this 12-week topic enabled us to combine all the curriculum areas under one umbrella (if you'll forgive the pun).
Log in to your account to read
Reviews
You need to be signed in to place a review.