This biographical text explores the life of Nelson Mandela – the great man of Africa. Interspersed with quotations from his autobiography Long Walk to Freedom, it tells the story of how a boy from the Transkei grew up to become one of the world's greatest campaigners against racism and inequality and one of Africa's greatest leaders.
These teachers' notes accompany the PRINT ONLY guided reading leaflet in Literacy Time PLUS Ages 9 to 11, May 2009.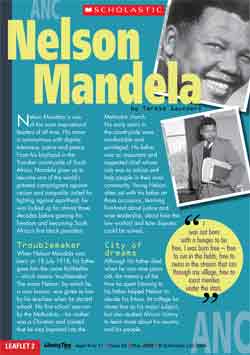 Before reading
Note known facts about the geography, history and politics of South Africa and Nelson Mandela. Refer to Poster 1.
Watch film clips showing Mandela speaking. What do you notice about him? Contrast recent/older clips.
Sharing the text
Compare the structure of this text with others in this issue.
Compare the language and tone used by Teresa Saunders with the quotes from Mandela's autobiography. Which is more dramatic? Highlight how the author weaves historical facts in with Mandela's own words.
Identify the underlying themes in Mandela's life.
Do the children empathise with Mandela? Can they visualise how difficult his life was? How do they feel about his role in civil disobedience?
Comment on his early upbringing and his father's influence, and how these may have influenced his ideas. Refer to "I had no epiphany…".
Log in to your account to read
Reviews
You need to be signed in to place a review.