Rob Steen gets a warm feeling inside with his favourite children's book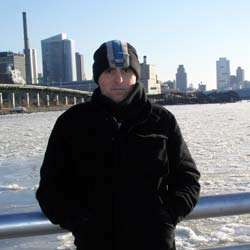 The Adventures of Uncle Lubin by W Heath Robinson (David R Godine Publishers Inc, ISBN 9781567921731) was first published in 1902, but it's a story that I feel still holds its own in the Potter age. This beautifully illustrated story tells of a strange old man, Uncle Lubin, who is frequently left in charge of his nephew, little Peter. One day little Peter is kidnapped by a pelican-like Bag-bird and whisked away into the sky. Uncle Lubin sets off to rescue his nephew, and we follow the bizarre events that unfold – the flight of his homemade airship, encounters with mer-boys, a dragon-snake and many other odd characters, taking us all over the world and to the Moon and back.
When I first read Uncle Lubin I immediately loved the story and inhabitants of Heath Robinson's world, but was also confused by some of their actions. At on point Uncle Lubin finds an old man named Vammadopper stranded on a tiny desert island. He tells Uncle Lupin the story of how he came to be there and Uncle Lubin listens to his tale, kisses him on the cheek and leaves – even though he had room in his boat to rescue him! Probably not something that would happen in a modern day children's book, but I imagine back in 1902 this may have seemed normal (though I hope not).
Log in to your account to read
Reviews
You need to be signed in to place a review.