Music/PE: On a cold and frosty morning
5 Stars
19 December 2008
Add to My Folder
This item has 5 stars
of a maximum 5
Rated 5/5 from 1 rating (Write a review)
Wake up to the benefits of singing and help warm up your class during the winter months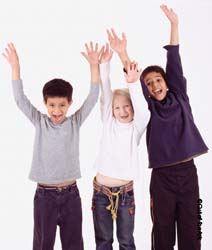 They say that eating a healthy breakfast is the best way to start off your day. We are all familiar with the TV adverts that seek to persuade us that their particular breakfast cereal is the best way to kick-start the morning. I'm certainly not going to argue against the importance of a healthy breakfast, but I am going to quote a certain John Harvey Kellogg who recognised that as well as Corn Flakes: 'Singing promotes health, breathing, circulation and digestion'.
The health benefits of singing – both physical and psychological – are long acknowledged and well documented. Martin Meader (writer of children's stories and film scripts, musician and composer) knew what he was talking about when he said: 'Singing is a gymnasium for the body and soul'. So before we look at how to use a couple of specific songs to warm up on a winter morning in school, let's just remind ourselves of some of the medical facts about singing – they'd make for a tremendously powerful advertising campaign!
It has been proven that singing:
improves lung capacity and circulation
encourages you to take in more oxygen, leading to improved mental alertness and aerobic capacity
benefits posture (expands the chest, straightens the back and shoulders)
boosts the immune system
exercises major muscle groups in the upper body – including toning facial and stomach muscles
increases confidence and self esteem
improves your mood – it releases the same 'feel good' endorphins as chocolate, leaving you energised and uplifted (without the calories!).
Log in to your account to read
Reviews
You need to be signed in to place a review.