How big are your gaps? After watching the recent Channel 4 Dispatches programme about the state of maths in our primary classrooms, you might be wondering whether the Strategy booklet 'Moving on in mathematics: Narrowing the Gaps' is aimed at teachers or children. The programme highlighted that some teachers are less mathematically confident than the children they are teaching. How long will it be before we introduce attainment trackers for teachers?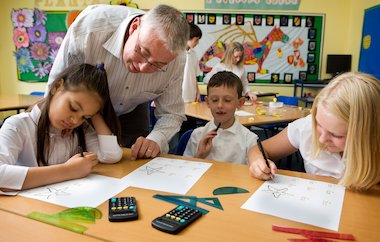 But before we press the fit-for-purpose eject button let's press pause and remind ourselves that not even subject specialists know everything there is to know. Primary polymaths have no chance of attaining even a reasonable level of expertise in one subject during their training unless they are direct descendants of the da Vinci family. Maths surgeons aren't trained overnight. Expertise takes time to build and so does confidence. What we need is to share and discuss generic techniques that can be adapted across a range of maths contexts.
My CPD work as an inset provider and fellow teacher has taught me that colleagues value opportunities to talk about their maths uncertainties in a supportive, informal atmosphere where they aren't judged or tested. But you need a context. What work remarkably well as tools for discussion are visual disagreements or concept cartoons. Most teachers know about these through their science teaching but they are less well known in other subject areas.
Log in to your account to read
Reviews
You need to be signed in to place a review.