Write Dance is a music and movement programme for the development of pre-writing and writing skills in children. Sharon Drew explains how Write Dance can actively promote creativity and engage all young children in mark-making and writing activities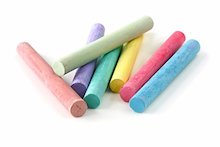 Learning to write is an important aspect of a child's development. Changes in the early years curriculum now encourage the development of writing through more playful and creative approaches, rather than learning letters through repetitious practise. Mark Making Matters, published by the Department for Children, Schools and Families (DCSF), has also raised the profile of young children's ability to communicate their ideas and thinking through marks, symbols and drawings.
Marks have meaning
Children learn to write through discovery, making marks, patterns and shapes, and joining lines. They begin by simply enjoying the feeling of the movements, rather than focusing on an end product. They soon realise that their marks have meaning and begin to elaborate by telling stories and expressing their feelings through pictures and symbols.
Children attempt to make sense of the world through their marks and writing to solve problems. It is easy as adults to forget how complex the process of writing is and what underlying components are needed to be in place to become a writer.
Ready to write
Of course, not all children are ready to write at the same time and boys in particular are reported to perform more poorly in the scales of writing (Mark Making Matters, DCSF). Practitioners within early years settings are constantly challenged in how best to support and promote children's mark making and developing writing skills. However, a tool that meets a wide range of early learning goals within the Early Years Foundation Stage framework (EYFS), and actively promotes creativity in young children, is Write Dance in the Nursery.
Write Dance in the Nursery
Write Dance was devised by the Dutch graphologist, Ragnhild Oussoren. It is a programme that introduces children aged from three to five years old to writing, using movement, the senses, emotions and music. The programme is based on nine themes and incorporates playful songs, rhymes and games to help children acquire and consolidate a range of movements and patterns for early writing.
All the movements are linked through a storyline. There is a strong emphasis on being creative and through the use of music, which is central to the programme, movement and rhythm for writing is stressed rather than the individual formation of letter shapes. You can download a copy of the Write Dance themes with this Activity sheet .
Keep on moving
One of the key elements in this programme is that the movements utilise both gross and fine motor skills. During the activities, the use of both hands is strongly encouraged. The body-coordinating activities help the children to learn to integrate their eyes and hands as well as the two sides of their body, which are requisite skills for writing. The programme is cumulative in that the themes offer opportunities for repetition and consolidation in a number of different ways and media. In this way, the children feel secure in what they are doing before moving on.
The basic movements in the programme can be reinforced and developed through the optional topics of 'home' and the 'funfair'. There are songs on an accompanying CD for both alternatives. Children are encouraged to practise their movements in gross motor ways called 'movements in your space', as well as on a writing surface, which is referred to as 'scrimbling'. There is scope to develop the themes by drawing from ideas in the 'theme play' section.
Each new movement is introduced with a story, which the children are encouraged to get involved with by developing their own ideas and role play using props. This leads on to the children learning songs and rhymes that they act out and later replicate on a writing surface. Because of the way the programme is structured, Write Dance is easily accessible for children with a range of additional learning needs and is an inclusive approach to engaging all children in mark making and writing activities.
Move in your space
Member-only content
Scholastic Resource Bank: Early Years - join today!
Over 2,000 EYFS resources, activity ideas and games
Perfect for anyone working or playing with children from 0 to 5 years old
Unlimited access from just £1.25 per month
Join now
Already a member? Sign in below.
Reviews
You need to be signed in to place a review.