Creating an alphabet enables you to explore both the initial sounds of words and the letter symbols corresponding to those sounds.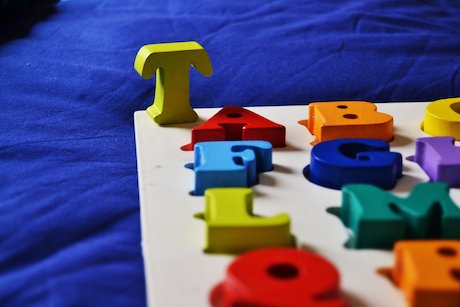 What to do
Choose a familiar item to represent each letter sound in the alphabet (apple for 'a', ball for 'b' and so on). Ask the children to help you take photographs of the items and mount each photo on card along with its corresponding letter symbol. Attach the cards at child height along the wall to make an alphabet frieze, and place a basket beneath each card. With the children, gather further items and pictures beginning with the sounds of the alphabet, and sort them into their corresponding baskets. Find letter symbols in different sizes, colours and fonts; use old magazines and books and print letters from the computer, make your own letters using stencils and potato cuts and include resources such as magnetic plastic letters, cut-out wooden letters and tactile sandpaper letters. Place the letter resources in a separate folder and add to the baskets.
Use the alphabet display in different ways:
Encourage the children to find new items to add to the baskets. Where possible, relate the items to activities; for example, a leaf from the garden linked to making pressed leaf collage, a button linked to a 'doing up buttons' activity and a tissue from the box when a cold is going round the setting.
Take a few items from the display, talk about them and sort them back into their correct sound/letter baskets. Take a few letters from the display and sort them back into their correct folders.
Link the display with 'I Spy' by telling the children that you are spying something in the alphabet frieze beginning with a particular sound.
Give the children letter cards and ask them to find the matching letter on the alphabet frieze.
Give the children mark-making materials and encourage them to write some of the letters. Feeling cut-out textured letters (sandpaper, velvet, embossed wallpaper) with the index and middle fingers can help children to absorb the shape of the letter.
Log in to your account to read
Reviews
You need to be signed in to place a review.