Ever thought a hat could be used for more than just role play? Nina Filipek has! She reveals how in this new series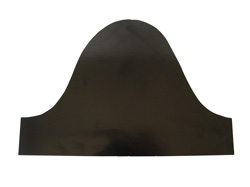 Use our skull and crossbones template to complete the pirate hat
To make the pirate hat
You will need: thin black card; white card; scissors; sticky tape; paper glue.
Cut out a strip of black card approximately 4cm wide, and long enough to fit around the child's head. Join the ends with sticky tape to make a headband.
Cut out the shape of the pirate hat from black card.
Glue the headband onto the back of the hat.
Print out your free image of the skull and crossbones (see resource below) or draw your own on white card.
Help the children to cut out the skull and crossbones symbol and glue this onto the front of the hat.
Log in to your account to read
Reviews
You need to be signed in to place a review.