A Red Nose Day special is being filmed today down on the farm. So join Brenda Whittle and get your class e-i-o-ing for charity!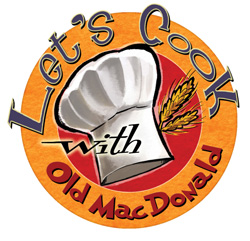 The theme for this year's Red Nose Day on 13 March is: 'Do Something Funny for Money'. With that in mind, Red Nose Day is sure to be a winner, with children in schools up and down the country giving hard-pressed teachers the opportunity to put targets and assessments to one side for the day, and enjoy some fun with their classes.
In our Red Nose Day extravaganza children can participate in their own cookery show, by concentrating on the following:
Wear Something Funny for Money.
Perform Something Funny for Money.
Bake Something Funny for Money.
Watch Something Funny for Money.
Choose a theme
In order that all the children have the chance to 'Wear Something Funny', it will help to choose a theme for the event. This could be a nursery rhyme, story or a song. Bear in mind that the cookery programme will also be based around making biscuit characters from that theme, all with Red Noses. So, you might decide on 'The Three Little Pigs', 'The Gingerbread Man' or, as the example given here, 'Old Macdonald Had a Farm', where all the characters have Red Noses.
Before the event
Tell the children what Red Nose Day is all about (more information is available at www.rednoseday.com/earlyyears). Explain that you want them to have some fun while raising money to make a difference to people who need help in this country and in Africa.
In order to celebrate Red Nose Day and raise some money, invite the children to help plan and take part in a cookery show. It will not be like any other cookery show they have seen, as it will be held on Old Macdonald's farm on Red Nose Day and they will take on the roles of Old Macdonald and his animals!
Offer the children the chance to buy Red Noses at £1 each – you can order Red Noses using the Nose Deposit Scheme at www.rednoseday.com/schools If you are using the Red Noses, explain that as well as dressing up as the characters, the children will be wearing Red Noses.
Log in to your account to read
Reviews
You need to be signed in to place a review.