Original article published 12 January 2012
Christine Kenworthy decided that rather than shy away from a sudden snowfall, she would embrace it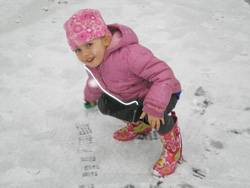 There is something quite magical about waking up to a white world, especially if you are five years old. After an overnight fall of snow, our Reception children were in varying states of excitement. It soon became apparent that there was no way they would settle into daily routines until they had been out to play. The morning's planning was quickly abandoned and replaced with an impromptu session of snow play.
It's a good idea to have a few activities and resources prepared, so that you can take advantage of unexpected snowfall before it either melts away or freezes and becomes impossible to play with. A stock of hot chocolate makes a nice treat for warming up afterwards! Here are some snowy ideas to try:
Log in to your account to read
Reviews
You need to be signed in to place a review.