A short traditional-style fable set in Africa and presenting a conundrum: How can a boy ferry a leopard, a goat and a yam across the river safely when he can't fit them all in his canoe at once? We soon find out his solution in this short tale from distinguished storyteller, poet and broadcaster, Kevin Crossley-Holland.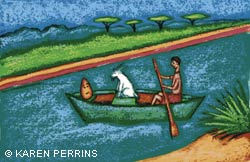 Shared teaching and learning
Before reading
Write the word 'conundrum' on the board. Ask the children to work in groups to investigate how many words they can spell from the letters within it. Go through their words then ask them if they understand the word. Discuss its meaning and ask them to find an alternative word, perhaps using a thesaurus. Invite the children to think of a sentence with this word in. Replace the word with any of the alternative words and discuss preferences.
Tell the children that they are going to read a story entitled 'Leopard, Goat and Yam'. What type of story do they think it will be? Tell them that it is about a boy who is faced with the task of taking these items across a river in his canoe. However, he doesn't have enough room for all of the items in his canoe. If they were the boy, which items would they take first? Does it matter which he takes first? Discuss their ideas and encourage reasoning.
Explain that this story is a fable and discuss what that is. Show them the text, asking them what they immediately notice. (It is a short story.)
Log in to your account to read
Reviews
You need to be signed in to place a review.