Don't be a shrinking violet! Use our guide to help you communicate with your colleagues and make the most of every meeting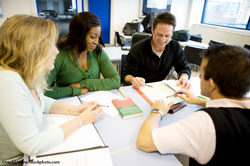 Bull at a gate. Dead duck. Snake in the grass. These unkind epithets have all been used to describe head teachers that I have known. Not, of course, to their faces, but most commonly during whispered exchanges after staff meetings or when drink had loosened their tongues. Anyway, you must know what kind of animal your head teacher is if you wish to understand staff meetings and perform well in them. As chairperson, your head teacher's role is crucial; get to know them, observe how they work and learn how they like to run things.
The modern meeting
Log in to your account to read
Reviews
You need to be signed in to place a review.