A good display will inform, educate, engage and brighten up the classroom walls. Follow our top tips to ensure yours work every time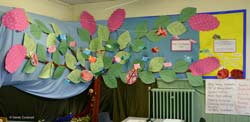 Why put up a classroom display? Because you can exhibit exemplary work to establish standards. You can celebrate the success of individuals by displaying what they have done. You can introduce and stimulate interest in a new topic. You can simply display information: a list of adverbs or the wives of Henry VIII. You can use a display to initiate action, to issue a challenge or to involve children in a particular learning process. A display can also be the outcome of collective effort over time, the climax and focus of a significant piece of classwork. And I would not dismiss as invalid the notion of using a display to make the room look attractive; for an attractive classroom, one into which children want to come. Displays set the tone. When a visitor surveys your classroom they will learn just as much about you as they do when they first use your bathroom at home. If that thought worries you, then it is probably time that you did a Llewelyn-Bowen and got down to changing your room.
Log in to your account to read
Reviews
You need to be signed in to place a review.