This on-screen resource will encourage Year 1 children to think about how to look after various pets. The words and sentences are easily decodable and simple in construction.
The first activity explores the items needed to look after a dog, horse and budgerigar. It should build the children's vocabulary and encourage them to talk with a partner about the suitability of each item for certain animals. The next activity asks the children to read a sentence and then decide which pet it best fits with. Each sentence gives a very simple description of how to care for this pet. The final activity asks children to sequence the instructions for cleaning out a fish tank.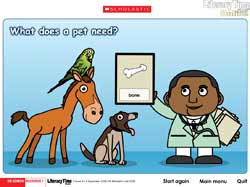 Before using the resource
Which animals make good pets? Make a mind map. Keep it available and add to it as the project develops.
Have some of the items listed in the first (vocabulary) activity available to handle. The children may not have seen some of the items before.
Discuss how to look after a particular pet. If possible, invite a visitor into school to talk about looking after their pet, or ask some of the children to talk about how they look after their pets. You could also approach a local vet about coming into class to give a talk.
Log in to your account to read
Reviews
You need to be signed in to place a review.